Qatar's capital, Doha, offers a fascinating mix of contemporary and historical culture. The bustling bazaars with maze-like side streets offer a glimpse of the traditional, while the city also stands tall as a contemporary metropolis.
For sports, Qatar has become a sought-after destination, with cutting-edge venues reflecting its status as a global competitive hub.
And at the Judo World Championships currently held in the city, kids were invited to inspire the next generation of judoka.
Agbegnenou in luminous form
Clarisse Agbegnenou, France's five-time World and Olympic Champion, was in glowing form all day under 63kg, with her trademark arm locks and big throws leading her to the finals.
I am really proud to be back as a mom and win my sixth World medal today.
Clarisse Agbegnenou
-63kg gold, France
There he would meet Slovenian Andreja Leski for the rematch of the World Championship final two years earlier.
And in front of an excited crowd, it was Agbegnenou who emerged victorious, hurling and then holding his way to his sixth World title. IJF EC Member Jean Luc Rougé presented the medals.
"I'm really proud to be back as a mother and receive my sixth World medal today," Agbegnenou later said.
Grigalashvili beat Casse again
Belgium's former World Champion Mathias Casse arrived in Doha to reclaim his title and swept through the preliminaries.
But on the other side of the draw was World Champion and rival Tato Grigalashvili, who advanced to the final using the great Georgian style of judo.
The two faced off for a World Championship final for the third time in a row, and Grigalashvili was the victor and defended his title with a waza-ari.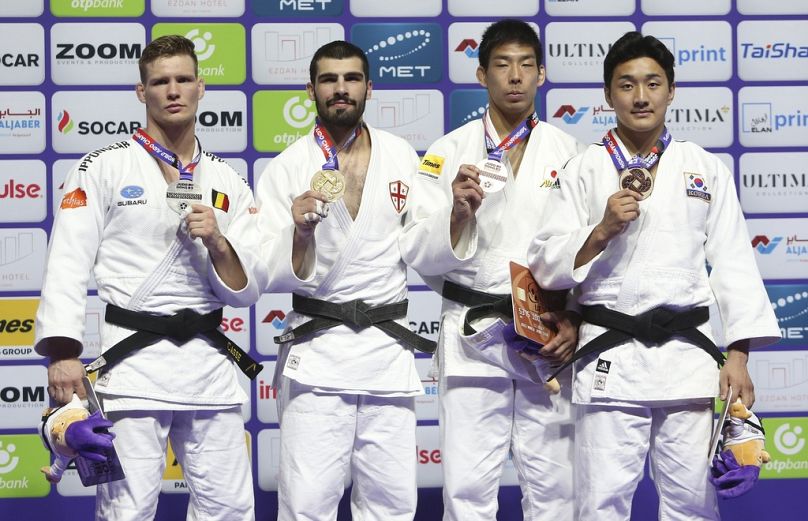 IJF Vice President Dr Laszlo Toth presented the medals
"My memories of Doha are incredible," said Grigalashvili. "Because I won the World Masters here in 2021 and now I have retained my World title. There is a great atmosphere and I hope to come back for more medals. Thank you Qatar and Doha."
Tomorrow, two more World Champions will be crowned in Doha, whose iconic architecture is an example of Qatar's commitment to innovation: a truly remarkable destination at the crossroads of heritage and progress.