Doha, Qatar is one of the most exciting dates on the Judo tour. At ABHA Arena, traveling Judo fans and local enthusiasts alike flocked to witness the last electric day of Judo, the Mixed Team World Championship.
The action was non-stop all week with incredible demonstrations of local culture and true Judo values.
IJF also supported a Refugee Team for the event.
Every Mixed Team World Championship has seen Judo giants Japan in the final, and since 2018 they have faced strong country France every time. While Doha came to a record of 4-0, the historic rivalry continued.
Japan came to maintain its top spot and despite strong opponents, it still managed to make it to the gold medal match.
But France was determined. With a great team, they worked hard throughout the preliminaries and landed in a dreamy finale with Japan.
In the final, France took an early lead – Gaba threw a big ippon against Hashimoto to the delight of the crowd, and Margaux Pinot forced World Champion Niizoe to surrender. France were now 2 points ahead.
Japan's Tajima recorded an absolutely huge waza-ari that kept his team's hopes alive and the crowd was very happy.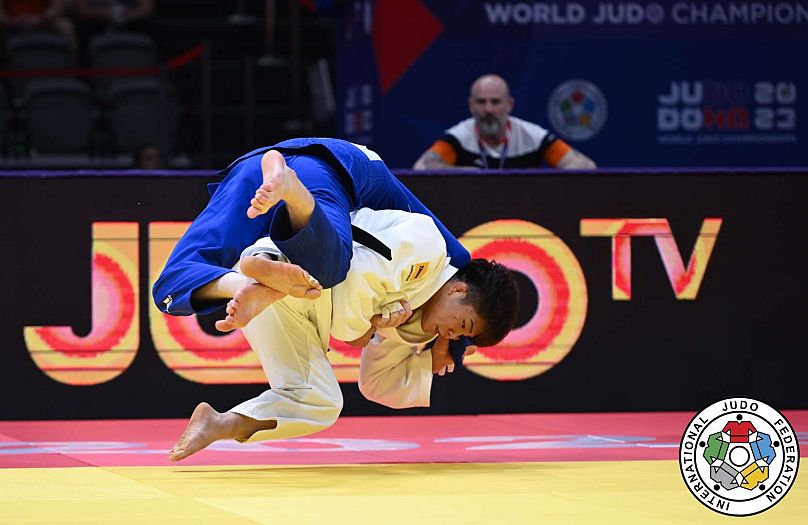 Hayme raised the score again for France, but Saito Tatsuru later did the same for Japan.
Cysique led her fight with an early waza-ari and the title seemed to be flying to France but Funakubo hadn't read the script. He kept Cysique down to pull Japan and France 3 – 3.
It all depended on luck. Margaux Pinot vs Niiozoe Saki for the World Mixed Teams title. Deep in the Golden Score, a tactical victory saw Team Japan tighten up.
Sheikh Joaan Al Thani, President of the Qatar Olympic Committee, presented the gold trophy.
IJF President Marius Vizer presented the Gold Medals.
"When I was drawing the categories, I somehow knew it would be -70KG, so I was ready," Niizoe said.
"This was my joke. I'm just a kid," Saito said.
So much friendship, honor and respect on display. The mixed team event doesn't work without the values ​​of Judo.
The 2023 World Judo Championships came to an exciting conclusion in Doha, Qatar.