The Ukrainian government has significantly eased its boycott policy a year before the Paris Olympics, signaling that it will no longer prevent its athletes from competing against Russians, who take part in sporting events as "neutral athletes".
Hours after the new policy was announced, four-time Olympic champion Ukrainian fencer Olga Kharlan stepped in to officially fight a neutral Russian opponent at the world fencing championships. Kharlan won, but was later disqualified for refusing to shake his opponent's hand.
The International Olympic Committee said it welcomed the easing of the boycott but pointed to the need for "tenderness" to Ukraine's concerns.
Since April, it has been government policy for Ukrainian athletes to boycott all national team competitions that allow athletes from Russia or Belarus to compete. This was true even if Russians and Belarusians were officially recognized as "Individual Neutral Athletes", the International Olympic Committee's preferred term.
A decree issued Wednesday says that Ukrainian athletes and teams will only have to boycott if competitors from Russia or Belarus compete under their national flag or other symbols, or otherwise signal allegiance to any of those countries.
The change in policy may make it easier for Ukrainians to compete at next year's Paris Olympics, but Kharlan's match showed the challenges ahead.
"This decision will allow Ukrainian athletes to participate in international competitions and will enable them to qualify for the Paris 2024 Olympic Games," the IOC said. Given the aggression against their country, the difficult internal conflicts they may experience.
"Therefore, we encourage international federations to handle situations involving Ukrainian and Individual Neutral Athletes with due sensitivity. We continue to be in full solidarity with Ukrainian athletes and the Ukrainian Olympic community."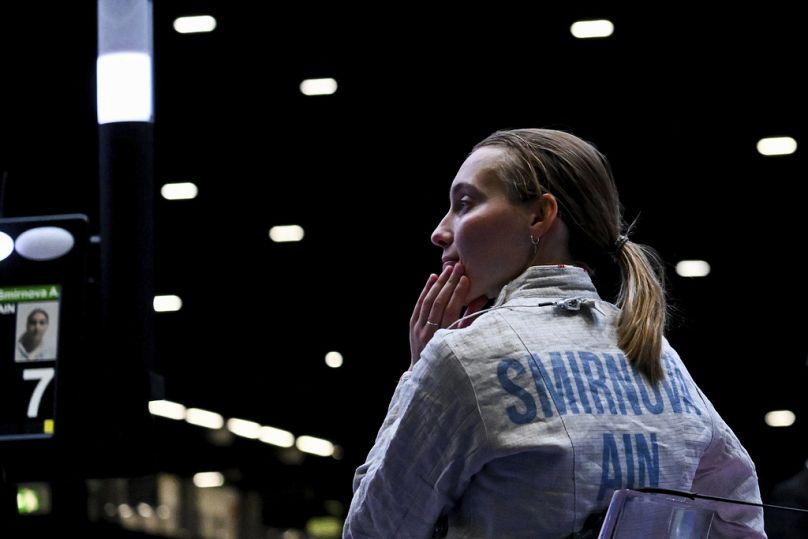 Kharlan, who won four Olympic medals, including gold in 2008, beat Russia's Anna Smirnova 15-7 at the world championships in Milan, Italy on Thursday – a key qualifying event for Olympic qualifiers. However, Smirnova refused to leave for more than 50 minutes after the match, and Kharlan eventually made an blatant protest by sitting in a chair on the fencing track as he refused to shake hands.
The Ukrainian pointed his sword at Smirnova. Touching knives has been used as an alternative to handshaking in fencing matches during the coronavirus pandemic.
Kharlan was later listed in the tournament group as an outcast from the event. The International Fencing Federation did not immediately respond to a request for comment on the rationale. Smirnova was not reinstated and Bulgarian fencer Yoana Ilieva, whom Kharlan would face next, advanced on foot.
Another Ukrainian, Igor Reizlin, withdrew from his event at the same world championship when he withdrew to compete against a Russian in the men's epee tournament on Wednesday before the decree was issued.
The IOC favors allowing Russians and Belarusians to compete as "neutral athletes" without national symbols in Olympic qualifying events. The governing bodies of most Olympic sports have already adopted IOC policy or are working on plans to do so.
The IOC still recommends that Russia and Belarus be banned from team sports and that athletes contracted with the military or security forces be excluded.
The IOC, which initially recommended that sports organizations exclude Russian and Belarusian athletes for safety reasons last year, says it has not made a final decision on allowing "neutral" Russian and Belarusian athletes at next year's Paris Olympics.
Ukraine has vehemently opposed this policy before, with President Volodymyr Zelenskyy saying in January that "the neutral flag of Russian athletes is smeared with blood" and that Russia would use their presence for propaganda.
Ukrainian fencing and judo teams have already boycotted events, including Russians, following the massive invasion of Ukraine last year. A government decree in April set this state policy as IOC-backed efforts to reintegrate Russian and Belarusian athletes gained momentum.
Some Ukrainian athletes openly opposed the boycott policy, saying it would be better to have Ukraine represented, even if they preferred that the Russians not compete.
Tennis is the only sport where matches between Ukrainians and Russians or Belarusians are commonplace. The men's and women's tennis tours allowed players from Russia and Belarus to continue competing without the national flags last year. Ukrainian players refused to shake hands with them, sometimes causing the crowd to boo.
The disagreement between Kharlan and Smirnova could resonate with Olympic decision makers. Fencing may not be one of the most watched sports at the Olympics, but former fencers are influential behind the scenes.
Signaling that his organization will monitor the behavior of Russians and Belarusians given neutral status, IOC president Thomas Bach is a former fencer who won a gold medal at the 1976 Montreal Olympics. Top sports officials in Russia and Ukraine are also former fencers who were teammates at the 1992 Barcelona Games.