Just Fontaine's former club Stade de Reims and the French football federation confirmed that the French star died on Wednesday with an impressive hit rate of 259 goals in a total of 283 appearances in his club career.
Fontaine has set a record 13 goals in a single edition of the World Cup. Shortly after doubling a French league and French Cup at his side, it took six matches to match his success in the 1958 tournament in Sweden.
"Justo is and will remain a legend of the French team," said France coach Didier Deschamps. said.
Moroccan-born Fontaine, who entered the World Cup tournament, was a little-known striker outside the French league. Yet he tormented his opponents with his speed and finishing touch, and even with someone else's boots. He had to borrow a pair of crampons after damaging his own boots in practice.
Fontaine scored four goals in the third-place match against West Germany, but could have scored five if he had taken the penalty kick.
In addition to his achievements with the national team, Fontaine won four French league titles, the French Cup, and reached the 1959 European Cup final during his club career with USM Casablanca, Many and Reims.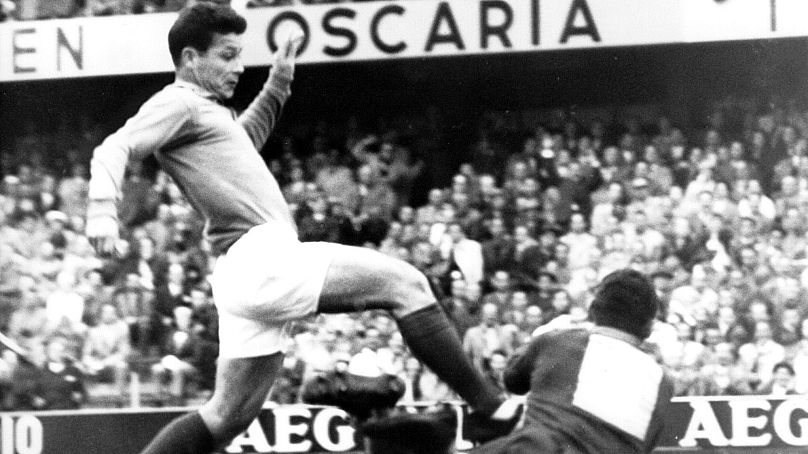 After his retirement, Fontaine founded the players' union of France and served as president for several years. He also briefly coached the France national team before facing Luchon, Paris Saint-Germain, Toulouse and the Moroccan national team.
"A French football icon has passed away and Paris Saint-Germain would like to pay homage to the man who promoted them to the major leagues 50 years ago," PSG said in a statement. After a playoff win in 1974.
The French football federation said the moment of silence for Fontaine will be held this weekend with a "moment of homage" across France, which will also be celebrated on Wednesday before the French Cup games in Toulouse, Marseille and Nantes.
Philippe Diallo, interim president of the French federation, said: "The death of Just Fontaine has left French football with deep emotion and great sadness. He was an iconic figure with his incredible record of 13 goals in the 1958 World Cup. He wrote one of the most beautiful pages in the history of the French national team."
Fontaine's meteoric rise as a striker saw him score 200 goals in 213 matches. He scored 30 goals in 21 matches for France.
Fontaine's career was dramatically interrupted when he was just 28 years old. Known for his lightning speed and brutal finish, the Frenchman suffered a horrific leg fracture in March 1960 after a mishandling.